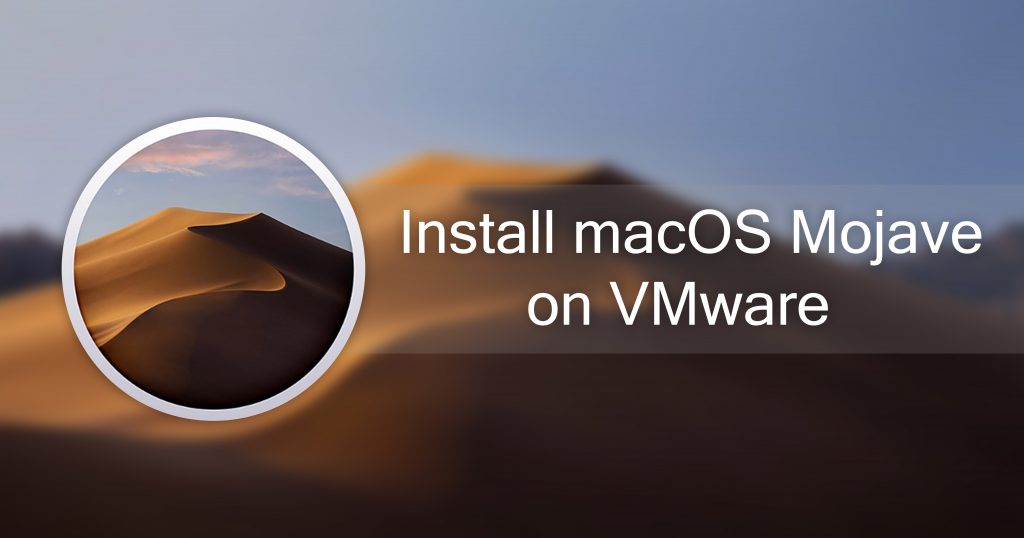 Installer macOS Mojave sur VMware sur un PC Windows
Eh bien, une autre WWDC, une autre surprise. Comme les années précédentes, Apple n'a pas reculé cette année. Cette année, Apple a annoncé sa dernière version de macOS – macOS 10.14 Mojave (spécifiquement prononcé macOS Mo Harvey). Bien sûr, il y a un tas de nouvelles fonctionnalités et de choses que la plupart avaient appelées. Au cours de son discours, Apple a présenté certaines des caractéristiques importantes, notamment le mode sombre complet, le bureau dynamique, les piles, la vue Galerie pour le Finder, le temps de groupe et bien d'autres sujets à aborder. Mais si vous êtes un utilisateur Windows et que vous pensez ne plus être dans cette situation et que vous ne l'utilisez que pour Mac, changez d'idée, voici comment installer macOS Mojave sur VMware sans avoir ou obtenir un Mac gratuitement.
Le fait que Apple ne veuille pas de nous installer ne veut pas dire que ce n'est pas possible. Grâce aux applications de virtualisation telles que VMware, qui nous permettent d'exécuter tout le système sous Windows sans en acheter ni en redémarrer à chaque exécution, comme le double démarrage. Avec VMware, le processus d'installation est assez simple. Si vous connaissez ou avez déjà utilisé, vous n'avez pas à vous soucier de quoi. Téléchargez simplement Mojave Image, VMware, installez-le et vous êtes prêt. De cette façon, vous pouvez créer une machine virtuelle (VM) et exécuter Mojave une fois que vous avez installé. Avec cela, vous pouvez installer et explorer des applications Mac telles que Xcode.
Une fois installés, vous aurez les principaux outils intégrés avec vous, tels que l'adaptateur Internet, le contrôleur USB, le glisser-déposer, etc. En dehors de cela, vous pourriez avoir beaucoup de questions, on y répondra sur le chemin de l'installation. Dans cet article, je vais vous expliquer comment installer macOS Mojave sur VMware sur un PC Windows. Le processus est assez détaillé en étapes avec des plans précis que vous ne serez pas seul, laissez-le décomposer. Voici comment installer macOS Mojave sur VMware sur votre PC Windows.
Mon PC est-il compatible avec macOS Mojave?
Chaque fois qu'Apple développe de nouveaux logiciels ou mises à jour, Apple les limite aux anciens appareils Apple, appelés appareils incompatibles. Cela fait des années pour les Mac et cette fois, ils l'ont fait comme d'habitude. Toutefois, en cas d'installation sur un PC Windows, il n'ya pas de phrase, que vous utilisiez un ancien ou un nouveau PC avec n'importe quelle version et édition de Windows, vous pouvez télécharger et installer macOS Mojave sur VMware sur votre PC Windows. Après tout, si vous avez des questions à ce sujet, vous obtiendrez une réponse lors de l'installation, sinon, il existe un énorme formulaire de commentaires pour vous.
Ce dont vous aurez besoin
Pour commencer, vous aurez besoin de certains fichiers, y compris l'image virtuelle macOS Mojave. Si vous avez déjà téléchargé macOS Mojave pour l'installation de Mojave sur VirtualBox, il n'est pas nécessaire de le télécharger à nouveau. Si ce n'est pas le cas, vous devriez télécharger ces fichiers, pendant que vous en aurez besoin.
VMware Workstation / VMware Player – VMware est le programme de virtualisation idéal pour la virtualisation. Bien que VMware ne prenne pas officiellement en charge macOS, mais que vous fassiez de petits ajustements, cela fonctionnera avec les outils essentiels tels que l'adaptateur Ethernet, le son, la résolution plein écran, etc. Obtenez officiellement VMware Workstation / Player sur le site Web et installez-le sur votre Windows, si ce n'est déjà fait.
macOS Mojave Final Image (18A391) le 24 septembre 2018
Dernier aperçu: macOS Mojave 10.14.3 APFS (18D109) 7 février 2019
macOS Mojave 10.14.3 APFS de Geekrar (un complet – Google Drive): Télécharger maintenant
macOS Mojave 10.14.3 APFS de Geekrar (7 sur 7 – Google Drive): Télécharger maintenant
macOS Mojave 10.14.3 APFS de Geekrar (One Full – MediaFire): Télécharger maintenant
macOS Mojave 10.14.3 APFS de Geekrar (7 sur 7 – MediaFire): Télécharger maintenant
Correction du nombre limite de téléchargements – Si vous rencontrez des problèmes pour télécharger le fichier, nous sommes toujours à votre disposition pour vous aider, vous pouvez trouver le moyen de le résoudre.
Résolution du problème: Périphérique VMware / Credential Guard et VirtualBox – Erreur – Si vous rencontrez un problème qui l'indique, voici comment procéder.
Erreur Fix Fixation (HTTP 403) – Si vous ne parvenez pas à télécharger le fichier en raison d'un problème d'autorisation, nous avons terminé avec un guide très facile.
WinRAR – 7-Zip – Pour extraire et décompresser les fichiers téléchargés, vous devez télécharger et installer la dernière version de Winrar ou 7 Zip.
Unlocker211 – Pour les fichiers de patch pertinents pour VMware, vous en aurez besoin pour installer macOS Mojave.
Avec l'image, les outils nécessaires sont inclus, vous n'aurez plus à chercher et à gagner du temps.
Vous pouvez également consulter et télécharger la dernière version de macOS Mojave Image for VMware & VirtualBox ici.
Quoi qu'il en soit, lorsque vous avez téléchargé les fichiers, extrayez-les avec Winrar ou 7-Zip pour les rendre prêts à être utilisés.
Avant de commencer, vous devrez rechercher quelques paramètres dans le BIOS de votre ordinateur. Lorsque vous démarrez dans le BIOS de votre ordinateur, vérifiez si vous avez activé les options de virtualisation (VTx). Si ce n'est pas le cas, continuez et activez-le ou vous pourriez avoir des problèmes plus tard. Quand vous êtes prêt, allez-y. Démarrez Installer macOS Mojave sur VMware en suivant les étapes une par une.
Première étape: installer VMware Workstation sous Windows
Lorsque vous avez téléchargé VMware Workstation / Player, il est temps de l'installer. À partir des fichiers VMware, cliquez sur setup.exe pour lancer l'assistant d'installation. Aussi simple que cela puisse paraître, suivez les instructions d'installation habituelles et vous êtes prêt à partir.
Une fois l'installation terminée, cliquez sur Terminer dans l'Assistant pour fermer. Une fois installé, ne le lancez pas (sérieusement, la prochaine étape ne fonctionnera pas).
Deuxième étape: correctif de VMware Workstation
Par défaut, macOS n'a pas le choix pour l'installation car, comme indiqué précédemment, VMware ne prend pas en charge macOS, mais est restreint. Dans ce cas, macOS Unlocker (unlocker en abrégé) devient utile. L'outil Unlocker (en abrégé) a été développé pour supprimer facilement la fonction de verrouillage de macOS X (serveur) et pour corriger les fichiers afin qu'ils fonctionnent sous macOS dans VMware Workstation ou Player. Pour utiliser cela, tout ce que vous avez à faire est de fermer VMware s'il est ouvert et d'exécuter Unlocker. Voici comment procéder. Naviguez vers les fichiers Unlocker210 si vous avez VMware Workstation 14, sinon utilisez Unlocker208 (les deux fonctionnent de la même manière, la différence est avec la version VMware) et cliquez avec le bouton droit de la souris sur win-install et sur Exécuter en tant qu'administrateur. Il suffit d'exécuter des commandes à l'invite de commande pour corriger les fichiers pertinents dans VMware.
Troisième étape: créer une nouvelle machine virtuelle
Maintenant, il est temps de faire une petite configuration, car cela s'éloigne des étapes.
Allez sur VMware Workstation ou Player et ouvrez-le. Lorsque vous voyez la page d'accueil, choisissez de créer une nouvelle machine virtuelle ou appuyez simplement sur Ctrl + N.
Lors de la création de l'assistant, sélectionnez l'option Personnalisé (avancé), puis cliquez sur Suivant.
Ici, vous verrez quelques informations sur la compatibilité matérielle et les limitations de la machine virtuelle.
Maintenant, sélectionnez J'installerai le système d'exploitation plus tard et cliquez sur Suivant.
For the operating system, choose Apple Mac OS from OS selection and for version select the latest version (10.14) if available, if not, select previous version (10.13) it will work too then click Next.
Name the virtual machine whatever you would like to and specify the location where to store the virtual machine files, then Next.
The processors are the significant part of a virtual machine, set up 50% – 75% of your system's CPU.
For memory, I'd like to set 4GB RAM for the virtual machine, that's about 50% of my laptop memory. Ensure you set 50% – 65% of your system's memory for the VM. Like I have 8GB of RAM in total, so I have used 4GB for the virtual machine.
By default, NAT will be selected, that's okay, just Next.
On this page, you don't have to make any changes, simply click Next.
Continue through the process with Next.
In the disk selection, select Use an existing virtual hard disk and follow Next.
Next, browse the macOS Mojave Image (VMDK) you had downloaded then click Next.
At last, you'll have the summary of the virtual machine creation, if you wish to make changes, customize hardware to change one, if everything seems ok, hit Finish.
Step Four: Insert VMware Code in Virtual Machine file
When the virtual machine is configured, you've to tweak this to insert code into macOS VMX file.
At this point, navigate to macOS virtual machine files and open (macOS Mojave).vmx file with Notepad.
If you didn't find Notepad to open there, click on Choose another app, scroll down to select Notepad.
At this window, copy the code from below and paste it at the end then save it like the shot.
Smc.version = 0
Step Five: Install macOS Mojave on VMware Workstation
And you're done with configuration and you're ready to actually install macOS Mojave on VMware.
Navigate to the VMware Workstation and start the virtual machine with Power on the virtual machine.
As it starts up, the Welcome screen will appear (It'll take some time to boot depending on your configuration), select your place where you are located and Continue.
Next, select your keyboard, if it's not there, click Show All to choose your keyboard from the list. When you're done, click Continue.
Apple wants you to use your personal information when asked by Apple feature. Also, Apple confirms to collect this information when needed to enable features.
Yes, you have the option to transfer information from your Windows PC, but that's not the recommended one since you're not going to use this as your primary computer, don't do that. When selected, click Continue.
Sign in with your Apple ID if you have one, if you're a newbie, click on the Create new Apple ID to create one. Alternatively, you can sign in later anyway you want. Whatever you choose, Continue it when finished.
To make things work, the virtual machine is automatically connected to the internet as you configured.
The Terms and Conditions provide information on the use of Mac computer, the macOS software, Game Center and other services if you want to read that's okay if not, that's not a problem.
To Agree to the Terms & Conditions, tap on Agree.
Apparently, you'll need to create a local computer account, simply enter your details into the blanks and Continue.
The express set up will enable the features, Maps – Location – Find my Mac and some more. In case, if you wish to customize and enable only those you want, you can do that, just hit Customize settings to allow the services you want.
If you chose to customize settings, you'd be asked for every single service for enabling — At the first screen, you'll be asked to enable location services, as here I don't allow location services, simply Continue.
Similarly, you'll be asked for some essential services, you can easily choose to enable or disable.
After you continue, you'll witness of your favorite part you were definitely waiting for. I guess you'd probably want to try the new look — Dark Mode. Otherwise, you could change it later, just Continue.
Yay! Eventually, you've done it — You're into macOS Mojave. I know there's much to dirty your hands with, but you don't have to because there's still more important to do.
Install VMware Tools on Virtual Machine (VM)
When you're done with the installation, you've probably want full screen instead of the black screen at your screen edges. Luckily, there's a perfect tool for that — That will particularly provide extra useful features such as full-screen resolution, sound, drag & drop and more.  The steps are here how to do it.
Go to VM > Install VMware Tools and wait to pop up on the screen.
For the latest installation with error fixing, check out the following link.
When you're prompted to Install VMware tools, double-click on it.
On the  Introduction page, click Continue. On the next screen, Continue to install for all users of this computer.
This informs you that this will take space on your computer, hit Install to perform the installation on currently available disk for all users.
Meantime the process you may be asked for your account credentials, enter them correctly and click Install.
When the installation finished, click Restart to complete the installation.
When the macOS reboots completely, you should have absolutely perfect resolution covering the entire screen, here a glimpse.
In another case, if you see System Extension Blocked error, for sure, you can fix this.
Navigate to Settings > Security & Privacy > On this page, watch out for " System software from the developer was blocked…. ", at the end and simply click Allow. This will let you install VMware Tools when you run.
Once you allow, their won't be any restrictions, just repeat the VMware tools installation and this time it'll likely work.
Finally, you'll have macOS Mojave running perfectly in your Windows PC. Everything should work fine with sound, display, internet and everything else.
If you want to update macOS, however you can. Since the Mac is already enrolled into Apple developer program, it will receive the newest updates. To update, head to Settings > Software Update > Click Update to begin downloading the update.
When the download completed, you'll be asked for a restart, just click Restart and the update will be installed once restarted.
And congrats! You have the latest macOS Mojave 10.14 beta three into your PC with its superb features.
Create Snapshot of macOS Mojave (Optional)
When it comes to backup in VMware, snapshot is the tool you'd prefer. Bad times can come anytime, but if you aren't ready for, you'll be in big trouble. What's a better idea than performing a backup before something happens wrong. That's where snapshot comes in handy. In simple terms, snapshot is a great useful tool in VMware which creates a copy of the virtual machine files to backup and protect everything.
Perhaps, if you would like to create a snapshot, the trick is simple.
In VMware, go to VM > Snapshot > Take Snapshot.
Next, name the snapshot and add a description if you'd like to, then click Take Snapshot to begin the process.
It will create a snapshot of the virtual machine within a minute, just wait!
Once the snapshot is created, you can find it in VM > Snapshot > "Snapshot Name" like I saved the snapshot by the name of New Snapshot and for restore just click on it.
By this snapshot, you've just like the shield doubled the life of your sweet macOS. This will be a potential recovery option when the machine fails to boot or any other issues. In fact, now you're completely safe and guranteed.
That's pretty much all there is to it. So on, you're free to penetrate or install apps or do whatever you've in mind. In case, if you experience slow performance or wanted to boost, reserve 50 – 60% of your PC's memory and CPU (Processors) for the virtual machine.
If you have problems and errors out of here, you can check for solutions we've listed and answered.
Other than this, if you've problem with screen resolution that doesn't fit in your screen, just like I had – Yup, you can do fix that to make your prefered thing.
Want to create bootable installer, here's how to do it in a quick way.
If you are experiencing slow performance, here's how to speed up macOS,
Well, that's all about how you install macOS Mojave on VMware on your Windows PC. Hope your questions have answered, if not let me know down in the comments.